---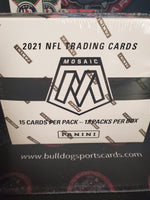 2021 Mosaic Football Cello 1 Box Division Draft
If you won't be present for the live stream, but still want to take part, please email or text me your draft list.  I will happily honor your list.
bulldogsportscards3@gmail.com
559-790-8821
If you are not present, do not email, or text me your draft order I will random the available divisions for your turn.