---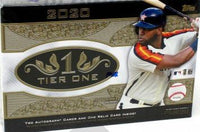 Configuration: 1 pack per box. 3 cards per pack.
2020 Topps Tier One Baseball
Home To Some Of The Most Sought-After Autograph And Relic Cards In The Hobby.
Including:
- Clear One Autographs
- Tier One All-Star Patches
- Autographed Limited Lumber
- Tier One Bat Knobs
- Next Level Autographs
Each Box Delivers 2 Autograph Cards And 1 Relic Card.