---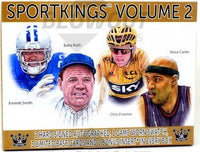 Configuration: 12 boxes per case. 1 pack per box. 7 cards per pack.
PRODUCT DESCRIPTION
Each box will contain:
- 1 Memorabilia card (could be a numbered parallel or Premium parallel)
- 2 hard signed autos (regular or auto-mem both with numbered parallels to 1/1)
- 2 Regular Green Back Base (only 100 made)
- 1 Mini Green Back Base(only 50 made)
- 1 bonus card which could be 1 of the following:
Autograph, Memorabilia, Jared Kelley Portrait Card, Century Heroes Cut Signature with 1/1 Sketch, Gary Kezele 1/1 Sketch card, 1/1 Grand Patch, Sportkings Icon Cut Signature featuring Babe Ruth, Paul Madden original rendering, 2000 Sport Kings Joe Montana Autograph buy-back card with Beckett authentication and Montana Hologram (HOF year).
Look for Babe Ruth Century Heroes and Icon cut signature cards!