---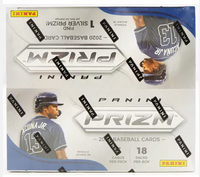 Product Highlights
One Autograph Per Box!
10 Quick Pitch Donut Circle Prizms Per Box!
9 Inserts Per Box!
One Silver Prizm Per Box!
Look for Rookie Autographs!
Each Box contains One Autograph and Ten Quick Pitch Exclusive Donut Circle Prizm Parallels!
Look for One Silver Prizm and Nine Inserts Per Box!
Look for (Quick Pitch Exclusive) Blue Donut Circles, Red Donut Circles, Bronze Donut Circles, Teal Donut Circles and White Donut Circles Prizms!
2020 features 5 NEW base subsets, including Instant Impact, Brilliance, Illumination, Star Gazing and Numbers Game!
Rookie Autographs features a variety of parallels and future stars!
NEW autograph insert Prospect Signatures showcases the games brighest newcomers!
Color Blast returns! Also look for the NEW ultra rare insert "Gems"!