---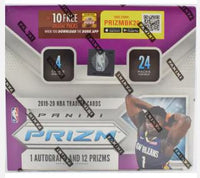 Product Highlights
One Autograph Per Box!
12 Prizms Per Box!
Collect EXCLUSIVE Pink Pulsar Prizms!
Look for Retail Exclusive Green Prizms!
Collect Zion Williamson Silver Prizm RC's!

Each Box contains One Autograph and 12 Prizms!
Collect the 24-Pack EXCLUSIVE Pink Pulsar Prizms of Zion Williamson, R.J. Barrett, JA Morant, Cam Reddish, Coby White, Rui Hachimura, Darius Garland, Jarrett Culver, and De'Andre Hunter!
Also look for Silver Prizms and Retail EXCLUSIVE Green Prizm Parallels!
Look for Prizms of your favorite NBA players, from rookies to all-time greats! Prizm features a 300-card base set, making that special Prizm pull, that much more special!
Find autographs from rookies, veterans, and all-time NBA Greats in Signatures, Rookie Signatures, and Sensational Signatures. Penmanship and Rookie Penmanship deliver a huge roster of players to collect! Look for autographs of NBA stars, old and new!
Collect incredibly colorful opti-chrome inserts--several of which feature dramatic in-game photography! Look for insert sets: Instant Impact, NBA Finalists, and Get Hyped!

24 Packs Per Box, 4 Cards Per Pack